AgmaVet®
The Best Agmatine Containing Product For Nerve Health
The Most Effective Solution For Your Animals' Diet and Good Quality Of Life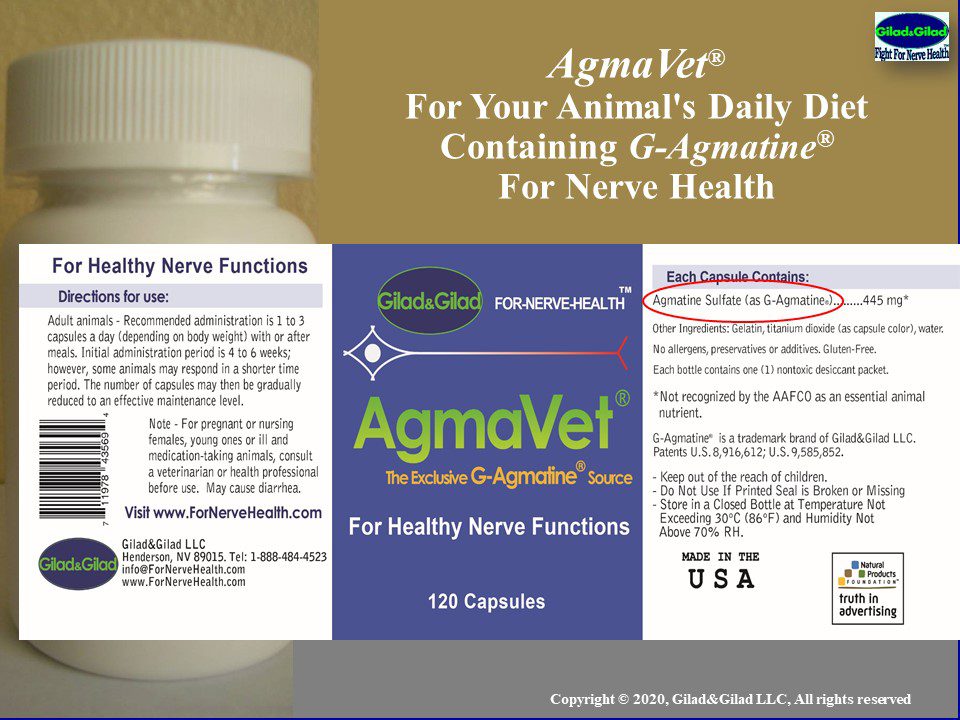 Animals, just like humans, are susceptible to various harsh conditions that can challenge proper nerve functions
AgmaVet® is a product for animal food. AgmaVet® capsules contain only G - Agmatine® (450 mg per capsule). AgmaVet® does not contain any allergens, preservatives or additives.
AgmaVet® recommended daily dose-range for Adult animals (depending on body weight): Cats - 1 capsule or less. Dogs - 1 to 4 capsules. Horses - 10 to 64 capsules. AgmaVet® is given with meals or as recommended by your veterinarian or healthcare professional.
Note: To achieve the desired effects, adhere to the recommended daily dose.
Side Effect: May rarely cause soft stool and rare mild diarrhea.
Warning: For pregnant animals or nursing females, and for young ones or ill and medication taking animals, you should consult a veterinarian or healthcare professional before use.
Storage: Avoid excessive heat and moisture. Keep bottles tightly closed and away from the reach of children.
Quality Assurance: AgmaVet® is manufactured under cGMP (current Good Manufacturing Practice) conditions in accordance with the highest standards and regulations. Long-term record maintenance and a follow-up system are in place.
​- The Price of One AgmaSet®, or AgmaVet® Bottle (120-count) is now $45.00 -​​
-We Pass Production Savings On To You-
The following discounts are offered by telephone only
[please call: (Toll-Free in the US) 1-888-484-4523, or 1-702-233-5553]:
(Our business hours are between 8:00 AM and 6:00 PM Pacific Time, Monday through Saturday)
10% Discount for Returning Customers with Chronic Needs AFTER Purchasing Five Bottles.
Word-of-Mouth Campaign: Get Additional 5% Discount on Your Future Orders for Referring ONE Purchasing Customer and ​10% for Referring TWO or More.
Online
Click below to be directed to our online store.
Phone
(toll-free in the USA) 1-888-484-4523
or ​1-702-233-5553
We at Gilad&Gilad understand your concerns about the security of online transactions. Therefore, our site is equipped with the most advanced Secure Socket Layer (SSL) technology available to ensure the privacy of any information you submit through this site. -- Transactions on this site are protected by a GoDaddy.com Web Server Certificate. The site is tested quarterly to ensure that High security standards of this site are maintained by passing SecureTrust® Payment Card Industry (PCI) Site Certification vulnerability tests.
Shipping and Return Policy
Shipping Policy
Shipping fees are not a profit center.
- Fees are set to cover actual costs only. Customers shall pay standard shipping list costs as applied by the United States Postal Service (USPS).
- The risk of loss and title for all merchandise ordered on this web site pass to you when the merchandise is delivered to the shipping carrier.
- Same day shipment on orders received prior to 1:00 PM Pacific Standard Time.​
Sales Tax: Nevada residents, please add Sales Tax as required.
Customers from Outside the USA: - Best use a PayPal account for orders. Please email or call (1-702-233-5553) for inquiries and shipping arrangements.​ -
When placing an order for delivery outside of the USA, You are solely responsible for complying with all Import Laws and for timely obtaining and maintaining any required import license, permit or approval necessary to import any product into the country of delivery and any other required governmental authorization, and the payment of any required fees, duties, customs charges, taxes, tariffs, levies or other charges necessary to import the product into the country of delivery. Gilad&Gilad is not responsible for international duties or taxes or other Import Charges on your order, or for problems, delays, or confiscation of your order by the Customs authorities in the country of delivery.
Return Policy
Within 30 business days of receipt of product:
Call 1-702-233-5553 or (Toll-Free) 1-888-484-4523, Monday through Friday, 8:30 a.m. to 5 p.m. Pacific Standard Time to report to the Customer Service Department of Gilad&Gilad LLC ("Gilad&Gilad") any order discrepancies/damages/shortages or incorrect orders.

A representative of Gilad&Gilad will talk with you, our customer, and arrange with you to return the product purchased from www.fornervehealth.com.

You will need to provide the following information: (1) Product name, size and quantity to be returned, (2) lot number (Customer Service will give assistance in obtaining this number) and expiration date of product(s) to be returned, and (3) reason for return. The product shall be returned to: Gilad&Gilad LLC, 9149 Claretta Dr., Las Vegas, NV 89129.

Upon receipt of damaged or discrepant product by Gilad&Gilad, product may be replaced or a refund check will be sent to you.

Product shortage claims will need to be verified by Gilad&Gilad's Customer Service Department and, upon verification, missing product will be shipped promptly to you.
Under all circumstances, when returning product to Gilad&Gilad, Gilad&Gilad is not responsible for any lost, damaged, illegible, mutilated, postage-due, or misdirected mail or shipments.